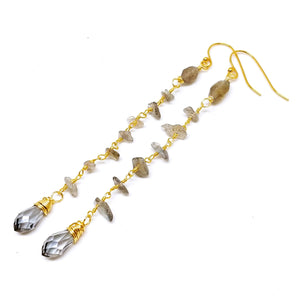 HollyBDesigns
Intuition Earrings
Regular price
$56.00
$0.00
Oh Labradorite, how I love thee....  It never seems less than magic when the sun glints off of Labradorite and creates that incredible iridescent flash of color!  Combined with the sparkle of light off of the faceted Crystal, those around you will surely mistake you for an angel.
Labradorite is a stone of protection and will keep wayward energies from hooking in to your aura.  It is also used to promote intuition and you can use it when meditating in order to connect with the higher consciousness.  I feel that through these properties Labradorite helps us to see the magic in the world around us and to look for the beauty in all things.
Faceted Labradorite, Labradorite Vermeil Chain, Denim Blue Crystals, Gold-Plated Ear Wire.
These earrings dangle approx. 3 3/4" from the earlobes.
**Due to the natural stones, no two pairs are exactly the same, and the pair you receive may differ slightly from the pair shown.**
---
Share this Product
---
More from this collection